Donations
We appreciate any and all donations you are able to give. Thank you for supporting our organisation!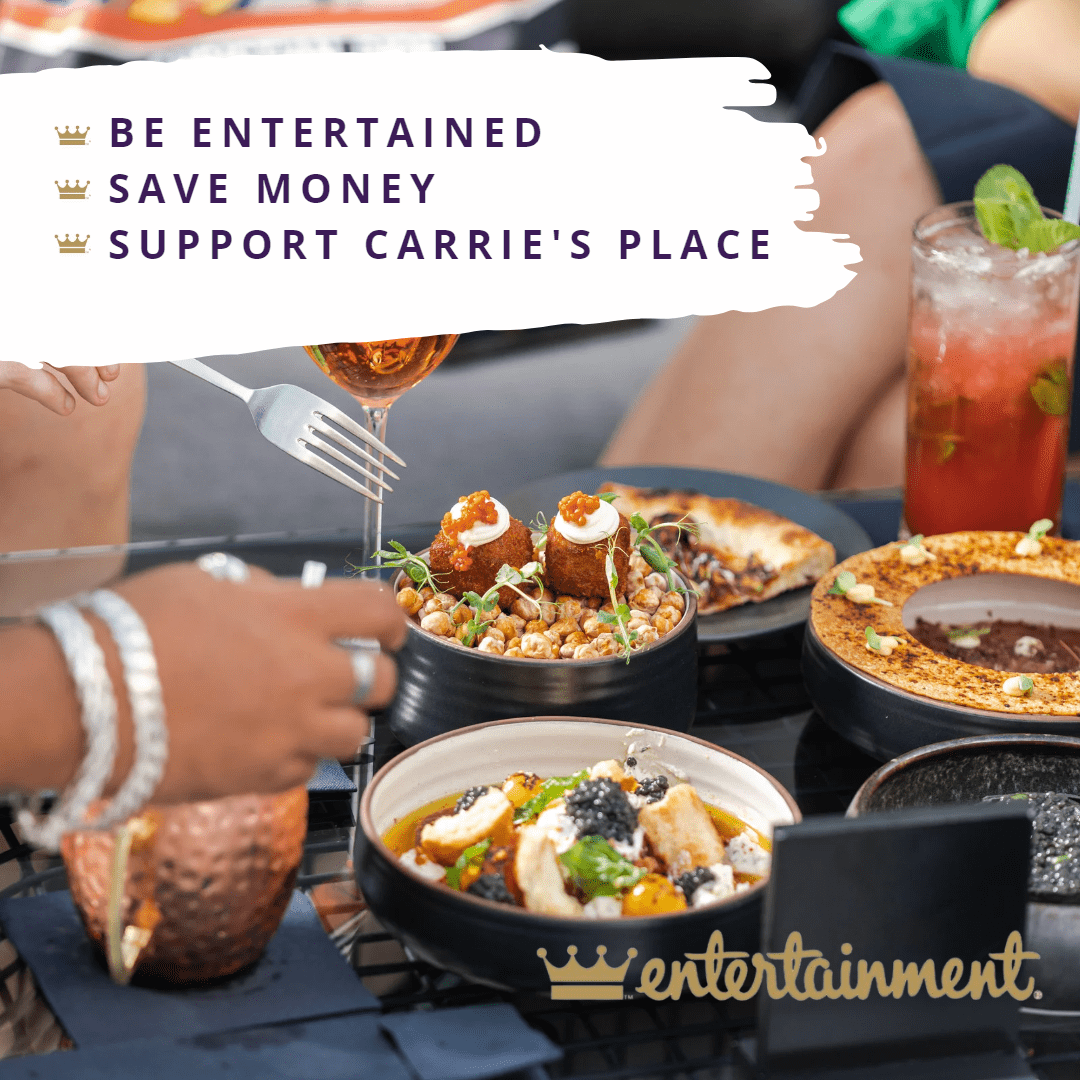 Save Money and Make a Difference!
The Entertainment Book is a genuine win/win. While you are saving money on dining out, wonderful experiences and shopping, you are also supporting the work we do here at Carrie's Place.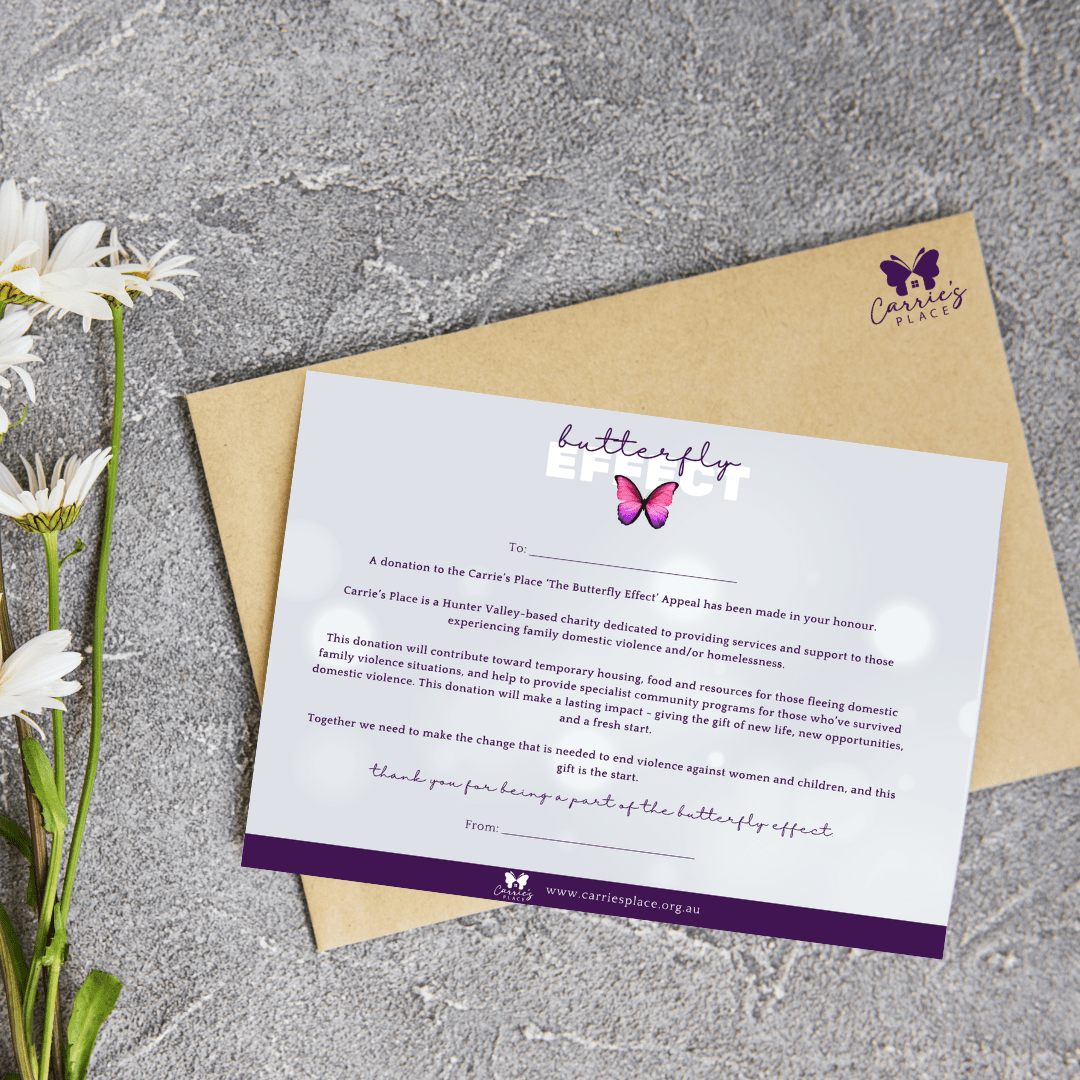 Carrie's Place Butterfly Effect Appeal
The Carrie's Place 'The Butterfly Effect' Appeal is a call for donations to support the provision of services and support women and children experiencing family and domestic violence, and / or homelessness across the Lower and Upper Hunter regions.

OMG .......... Christmas is coming!!!
Christmas is only weeks away, and this year
Carrie's Place will be supporting over 180 single/family households with various complexities from domestic and family violence, homelessness or those who are experiencing both.
We are supporting children from 0- 19 years of age,both girls and boys, Mums, Dads and Grandparents and we know that it will take a village
, so all the assistance and support we can get, will help us deliver hope and joy to many, who need it most.
Below you will find details of what we need and please reach out via email if you have any questions at [email protected].
TOY & GIFT IDEAS
Here is a list of items that might help when shopping.
Christmas chocolate stockings
Sporting equipment
Art and craft supplies
Lego
Playing cards and board games
Puzzles
Books - for all ages
Colouring in books - for all ages
Caps and hats
Socks
Backpacks
Lunch boxes and drink bottles
Beach towels
Body wash packs
Deodorant and shower gel packs
Hand cream and body lotions
Beauty products
Hair accessories
Baby dolls and teddy bears
Items that require batteries can sometimes be a challenge, as batteries can be expensive.
GIFT CARD IDEAS
The donation of gift cards enables our staff to purchase presents for teens, young adults and parents. It is also a good way for us to support those living out of home e.g. living rough,  temporary accommodation, tents etc.
This year we are working with Stockland Greenhills to raise awareness and seek donations for our community adn their families. Stockland Greenhills has also donated 150 Timezone vouchers.
Why not buy a Stockland Gift Cards at Customer Care and drop it in our Carrie's Place donation box. These gift cards will give our staff the means to shop for our clients in a local centre.
Another great idea is to donate movie vouchers  for local cinemas such as Hoyts & Reading.
Additionally gift cards to food outlets, Opal cards or phone credit, these allow teens and young people the ability to enjoy everyday experiences that they may not be able to afford.
FOOD DONATIONS
12 Days of Christmas Giving Hampers were a great success last year, so we are doing them again. See below for more information and to download the Checklist.
In addition to the Hampers we are calling out for support through donations of Woolworths Simply Groceries vouchers. These vouchers give families the means to purchase their Christmas meal to go with their hamper goodies.
Tenambit Butchery are proudly supporting us this year and you can purchase a Gift card from them. Let them know it's for Carrie's Place and their Team will help you out. We even have a donation box, where you can leave them their for our staff to collect.